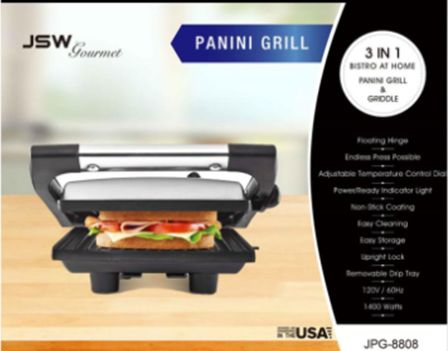 JSW Panini Grill (3 in 1
The JSW Panini Grill has The Rock non-stick technology. The Panini press has two reversible plates - one side flat gridle, the other side is a grill. It can be used closed for paninis or sandwiches and it opens 180 degrees to grill meats and vegetables. The surface of each plate is 10.8" x 7.8". Each plate has The Rock non-stick surface treatment and technology making it easy to use and clean.
.
Easy to clean - has a non-stick treatment surface and non-stick coating exclusive to The ROCK
Cooks quickly with less energy
Removable and reversible plates for contact grill, panini press, flat grill and griddle
Opens 180 degrees
Integrated drip tray
Adjustable temperature control
Vertical storage
Set & lock at desired height for open-faced melt (broil)
Oil & juice draining spouts
Adjustable height setting
Integrated drip tray
Indicator lights
1500 Watts
Plates measure 10.83 x 7.87 x 0.098 inches / 27.5 x 20.0 x 0.25 cm
THE ROCK: Nothing sticks, never warps, lasts longer
.