Windows 11 Pro & MS Office Pro Plus 2021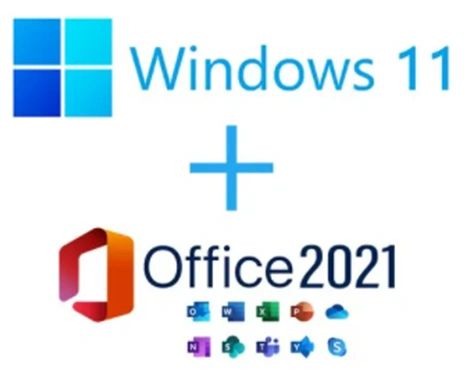 Windows 11 Pro & MS Office Pro Plus 2021
Users who use the full range of Microsoft Office to your PRO or office are excellent advice with the Professional Plus Edition. Includes all major programs: Word, Excel, Outlook, PowerPoint, Publisher, and Access. At the same OneNote is available from now through the Windows Store to download to notes quickly to customize and available through cloud on all devices. The high bandwidth of various programs, the variant Professional Plus is primarily aimed at people who work at PRO in the PRO office or looking for a powerful, reliable solution in an office in order, tables organize documents & Co..
Word 2021 is the most powerful tool for creating documents. From everyday "paperwork" to official company documents the functionality extends from Word on the full range of copywriting. New in this edition is also improved detection of virtual ink, so the writing will be better implemented with a pen directly on the screen in print typescript. Also, the voice input has been improved. , numerous detail improvements, Microsoft also made: SVG graphics as allow the integration of complex visual documents, without resulting in a high storage requirement arises. The scaling and other measures for image editing succeed by better.
In companies, however, Access 2021 any kind provides a powerful solution for creating and managing databases. The new version supports the generation of database applications that work directly in the browser and thus are particularly slim. Stored data then end up as in SQL databases, where secure access is. Publisher 2021, however, improves the possibilities for publishing graphics of any kind: for presentations, advertising, on flyers, magazines & Co. In detail, Microsoft Office 2021 Professional Plus both programs again improved significantly to expand as the stylus detection in Publisher and accelerate cooperation with databases in Access with colleagues.
When working with tables Excel has 2021 continue to provide the best features: tables of any kind from finance to product databases to acquisitions for tax return & Co. provides Excel in this version again improved type Among others, new representations of visual information. Added, also mathematical functions are inherently more integrated. What remains is the excellent compatibility with CSV files. Similarly, offers PowerPoint 2021 now the option to shoot in Ultra-HD integrate directly into presentations and scale graphics freely and zoom into images in and out. The elimination of external image processing is now more possible.
Outlook 2021 continues to provide access to all stored contacts, and e-mail addresses. Especially in offices in connection with an Exchange server this results in a great way, information about customers and partners always keep up to date. Additionally, the application supports the creation of any number of e-mail accounts, which users comes to meet with a variety of accounts. Across all programs Office offers 2021 Professional Plus the proven interface that is now integrated over a decade in every application for more. The workflow thus extends over any application away and falls everywhere very similar – whether in Word, Excel, Outlook and PowerPoint.
Office 2021 Professional Plus is limited by Microsoft for use with Windows 11 and Windows 11S. This means that none of the programs included is compatible with an older edition of Windows. Furthermore, it is in this collection of programs for a license that is fully owned by the buyer. The use is to close after purchase indefinitely possible without further subscriptions. Microsoft guarantees a support period of at least five years on all types of devices for all editions of Office of 2021.
Operating system:  Windows 11 and Windows 11 S
Memory:  2 GB RAM or
hard drive:  at least 3 GB of available disk space
Display:  1,024 x 768 pixel resolution
Graphics card:  DirectX 10 support required for GPU-accelerated interface
browsers:  the latest versions of Internet Explorer, Chrome, Firefox, or Safari Microsoft Edge
.NET version:  at least .NET version 3.5
| | |
| --- | --- |
| System: | Windows |
| contains: | Access, Excel, Outlook, PowerPoint, Publisher, Skype for Business, Word |
| Year: | 2021 |
——————————————————————————————————————————————
The new operating system Windows 11 PRO provides both advanced users and beginners in, as the name implies, "PRO – the" optimum computer support. As before, each "PRO" version of Microsoft Windows also shines 11 PRO operating system with a very user-friendly new interface. In addition, Microsoft Windows, fits 11 PRO depending on the platform, to the used device and its characteristics at. The system requirements for the Windows 11 PRO operating system are the same as in the two previous versions, Windows 7 and 8.1. For this reason, some older computers can cope without problems with Windows 11 PRO.
New features in the operating system Windows 11 PRO
Besides optical changes that Windows brings 11 PRO operating system and new features with it:
Cortana: language assistant to operate the system
Microsoft Edge: New Internet browser replaces the previous Internet Explorer
Facial and fingerprint recognition (if corresponding appliances are available)
Continuum: Tablet – mode for touch – devices
Windows Holographic: application platform for the corresponding HoloLens – data glasses (augmented reality)
Software And Games
The usual programs for calendar, mail, music, videos and photos are included 11 PRO in the Windows operating system. Another innovation that brings Microsoft Windows 11PRO with them, the new DirectX 12. This games are graphically supported even better. In addition, the new function, Games receives from the Xbox One on the computer on your PRO network to play or to stream, also their required performance boost.
Functional innovations in the operating system Windows 11 PRO
The familiar Start menu has been revised 11 PRO in Microsoft Windows and now also offers a page area, which you can populate with individual functions. Even the desktop in the new Windows 11 PRO operating system has the new feature of being able to use multiple virtual desktops for different areas. The Windows Store has been unified 11 PRO for all versions in the transition to Microsoft Windows.
Security and Privacy
Regarding security, the operating system supports Windows 11 PRO the standard 2.0 of the FIDO Alliance for Internet authentication. In the course of the biometric user authentication "Microsoft Hello" was introduced, which allows Login without a password. On data protection is available to users of Windows 11 PRO operating system compared to previous versions, a greater freedom of choice available. In the system settings, all connections to Microsoft, transmit the data, for example in the form of feedback, set personally and with individual adjustment points to the respective areas.
Optimal support of Windows 11PRO
In the future, should any further versions of Windows are more published, according to Microsoft. Instead, Windows will only come even as a service to use. This means that Windows 11 PRO buyers should not only receive updates in the form of bug fixes and bug fixes, but also new features that were not yet available at the time of purchase.
WINDOWS 11 PRO – SYSTEM REQUIREMENTS
| | |
| --- | --- |
| platform | Windows |
| Supported OS | Windows 11 |
| processor | Processor or SoC with at least 1 GHz |
| random access memory | 1 GB for 32-bit or 2 GB for 64-bit |
| Disk Space | 16 GB for a 32-bit operating system, or 20 GB for 64-bit operating system |
| graphic card | DirectX 9 or higher with WDDM 1.0 driver |